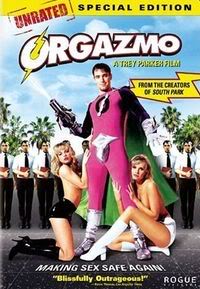 Orgazmo is Trey and Matts second full lenght film. It was rated NC-17 and so it didn't play in very many theaters, but now it is somewhat of a cult hit.

Beavers and Dogs: The Orgazmo The film revolves around Eddy , a Mormon_missionary Mormon missionary], who gets talked into starring in a porno movie by the famous porn director Maxxx Orbison in order to earn enough money to marry his fiancee Lisa.
In the movie-within-the-movie, he plays a superhero named "Orgazmo" who fights crime with his sidekick "Choda Boy" played by Ben Chapleski using his signature weapon, the "Orgazmorator," a device that forcefully triggers climax in those he uses it on. Following an agreement with the director, Joe acts and fights while a "stunt cock" does the rest. Orgazmo goes on to be a smash hit, and the director decides to exploit the missionary and make the movie into a series. Joe's fiancée is upset at his role in the film and leaves, and is kidnapped by the director to ensure Joe's participation in further filming.
Joe then decides to fight back using a real Orgazmorator invented by Ben, which gives him the powers his character reportedly had. He uses these powers to bring down the corrupt filmmaker and rescue his fiancée. The film wraps up with Lisa, seeing Ben's distress at the thought of his friend moving back to Utah, declaring that Joe must stay and fight crime with him. Ben, after a prayer from Joe, concludes by saying, "God bless us—every one" (a parody of Tiny Tim's line at the end of A Christmas Carol).
In the movie's final scene, Orbison is told that his testicles will have to be removed after a number of Orgasmorator-induced orgasms caused them to swell massively. He swears revenge on Orgazmo, vowing to become another character from the porno movies — Orgazmo's arch-nemesis, Neutered Man.
Matthew Bianchini as Eddy/Rizzo/Jerry the Light Man
Dian Bachar as Ben Chepleski/ Choda Boy
Micheal Dean Jacobs as Maxxx Orbison
Matt Stone as Dave the Lighting Guy
Toddy Walters as Georgi
Ron Jeremy as Clark/ Jizz Master Zero
Andrew Kemler as Rodgers
David Dunn as A-Cup
Chasey Lain as Candi
Juli Ashton as Saffi
Maeso Maki as G-Fresh
Jason McHugh as the Boom Guy